Looking for Ceramic Coat Cumberland Georgia?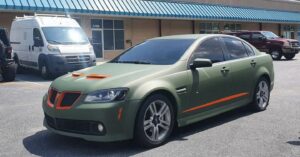 We are your local expert for Ceramic Coat Cumberland Georgia!
Xtreme Customs Wraps & Tints is the result of owner Brian Garcia's lifelong passion for cars.
Wanting to do something special with his own vehicle, Brian discovered that there was a shortage of companies who offered the kind of professional specialized detailing and customization (like wraps and tints) that he wanted.
So Brian launched out on his mission to learn the ins and outs of every facet of Ceramic Coat Cumberland Georgia.
Today, some three-plus years later, Brian and Xtreme Customs Wraps & Tints have earned a reputation for personalized service and meticulous attention to detail and have made Xtreme the "go to" shop for:
If you ever think of changing the look of your car, your business, your home, or workplace, call Brian and Xtreme Customs Wraps & Tints at 470-414-6848 for your personal consultation and quote.
 Brian and his team have served hundreds of happy customers and have an expansive gallery of work to check out!
Whether you are interested in learning to wrap your own vehicle, want to explore vinyl vehicle wrapping as a hobby, or hope to become a full-time vehicle wrap specialist, here is your chance to learn all the "tricks of the trade" and essential skills from one of Marietta's top vinyl wrap professionals.
Our classes are personalized for your needs and are typically one-on-one, just you and your instructor, so you'll have plenty of hands-on training and dedicated attention. If you have a team, we'll schedule your class just for your group.
Our most popular classes are:
• 2-day Window Tint Class
• 3-day Vehicle Vinyl Wrap and Color Change Wrap Class
Let your store advertise for you with "see-through" vinyl from Xtreme Customs Wraps & Tints.
Block people from looking inside so they can focus on your services! But don't forget…you can still see outside. Put your imagination to work with our wall wraps and make your office, home, or work space look like no other.
Wall wraps from Xtreme Customs Wraps & Tints can change the look of both interior and exterior walls and is an awesome option for changing the appearance of your personal space.
Floor decals and floor signs are a unique, interesting, and effective way to improve communication with your customers – or anyone who walks in your door. Perfect for temporary promotions – and even to improve safety – you're limited only by your vision.
We're a company that helps customers customize your vehicles with professional wraps and window tint installation.We also provide ceramic coatings, powder coating, paint, commercial wraps, fleet wraps, Window wraps, and more to customize your ride, business, house, office or anything you want.
Come check us out and we can help you customize your experience. If you ever think of changing the look of your car or places and want the best quality wraps, don't hesitate to contact us.
We can help with Ceramic Coat Cumberland Georgia!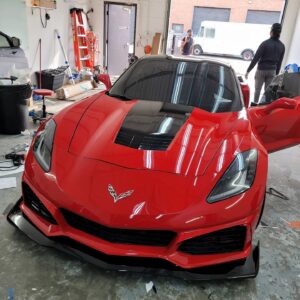 We'd like to provide some essential information about window tinting and the different types of window film before you make that important decision of who you'll trust for your vehicle's window tinting.
Here are some types of window film: ​
Dyed Window Tint: This is a film that is good for people on a budget. It does give you some sun protection, but not as much as other films. It fades easier, and you'll have to change it over time.
Metalized Window Tint: Similar to dyed film, this film uses metallic particles to block sunlight instead of dye which gives it a shiny appearance, provides better sun protection and even a degree of shatter-resistance. Unfortunately, the metalized particles can interfere with your radio or other electronic equipment in your vehicle.
Carbon Window Tint: This is a great-looking film with a matte finish that enhances the appearance of any vehicle. Plus, its carbon particles provide heat rejection of around 40% to keep your car feel cooler than dyed or metalized film. Best of all, it helps protect the interior of your car for longer with its 99% UV protection.
Ceramic Window Tint: If you're looking for high quality and the best protection for your vehicle, ceramic window tint is your choice. It can block from 50% to 80% of the sun's heat  and offers 99% protection from harmful UV rays.
At Xtreme Customs Wraps & Tints, we offer high-quality carbon and ceramic window films that come with a lifetime warranty, offers 99% UV protection, and are available in tint percentages from 5% to 70%.
For your personalized consultation, call Xtreme Customs Wraps & Tints in Marietta today at 470-414-6848.
Call today for Ceramic Coat Cumberland Georgia!