Custom Vehicle Wraps in Marietta Georgia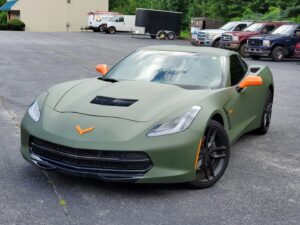 Your vehicle's appearance slowly degrades despite how well you maintain it, as Georgia weather can be brutal on paint. Moreover, you deserve a vehicle that reflects your personality and character. No one wants their vehicle to portray them as broken down or sun bleached. Whether you're trying to protect the paint, overhaul the appearance or transform your vehicle into an exceptional, mobile advertisement, vehicle vinyl wraps are the best option.
At Xtreme Customs Wraps & Tints, we have the experience and the expertise to provide you with a superior, durable vehicle wraps that will last for years and turn heads when you drive by. Our professional technicians are highly trained and treat every vehicle as if it was their own. Xtreme Customs Wraps & Tints offers a wide range of vinyl vehicle wraps and color change materials.
Considering Vehicle wraps? Here are 4 facts about vehicle wraps!
1. Car wraps are more durable than typical paint jobs.
Vinyl wraps durable and will last for an incredibly long time under normal conditions. Various factors influence this longevity. How often you wash the vehicle, the climate you live in, and the amount of sun exposure are the major factors. Under normal conditions, vehicle wraps can last you for about 5 years.
Additionally, you can prolong its lifespan with proper maintenance and care. For instance, parking your car in a shaded area or a garage and keeping your car clean can help increase the car wrap's lifespan.
2. Wrapping a vehicle will protect the original paint and help preserve resale value.
By choosing to wrap your car you are choosing to protect your car's original paint from any damage such as fading, scratches or minor dings. Consequentially, vehicle wraps help preserve a vehicle's value.
When wrapping a vehicle, the resale value is notably higher than those which have been repainted. Primarily, this is because you can remove the wrap with ease and without damage to the vehicle. Furthermore, the wrap kept the paint pristine, and your vehicle still looks showroom new. Which helps preserve that showroom price tag.
3. Car wraps help improve your vehicle's appearance.
Car wraps are a cost-effective way to renovate your vehicle's appearance. Also, wraps come in a wide variety of colors, patterns, textures, and finishes. It is convenient for you to customize your car in any fashion you can imagine! With vehicle wraps, you can decide from finishes like camouflage, pearlescent, carbon fiber, and matte.
Excitingly, when a professional applies wraps, only those with experience or a trained eye will even notice that it is not paint! Vehicle wraps allow you an immaculate finish that visually compares to a luxury paint job with half the cost!
4. Vehicle wraps can be reversed at any time.
One of the greatest aspects of vehicle wraps is that they can be totally reversed. With custom vehicle paint jobs, you are mandated to prepare the factory paint via sanding, then paint over it. However, vehicle wraps can be applied over the normal paint, and then removed with complete ease, revealing the original paint.
Full or Partial Vehicle Wraps
When you are investigating whether you need a vehicle wrap, first consider the different options. The following are a general look at the options. However, always contact a professional vinyl wrap shop to understand the details of different wrap options.
Professional Full Vehicle Wraps
A full vinyl wrap will cover all side doors and windows, the roof, from the front hood to the back bumper of your vehicle. For marketing, this is an excellent choice due to the large, captivating nature of the wrap. Naturally, that captivating full wrap can also be stylish on your commuting vehicle, if you want to turn some heads!
Custom Partial Vehicle Wraps
Contrary to the full wrap, a partial vehicle wrap will only cover certain segments of the vehicle. For example, the hood, side doors or windows would be considered segments of a partial wrap. Partial vehicle wraps can be an excellent option for someone seeking an aftermarket look for their vehicle or someone seeking minor branding.
Fleet Vehicle Wraps for Advertising
When it comes to uniformly applying an aesthetic to your fleet of company vehicles, vinyl wrapping is the best option for uniformity, price, time, and effect. Painting an entire fleet of vehicles is unbearably expensive when compared to vinyl wrapping. Furthermore, it would take an expert auto body shop weeks to repaint a dozen vans. For half the time, and twice the beauty, get your whole fleet wrapped!
Contact Us for the Best Vehicle Wrap Service in Marietta Georgia!
Xtreme Custom Wraps & Tints has been an industry pioneer for almost half a decade. If you need a professional vinyl vehicle wrap service, consider contacting us, booking an appointment, or checking out our past work!
You can always call Xtreme Customs Wraps & Tints at 470-414-6848 for your personal consultation and quote.